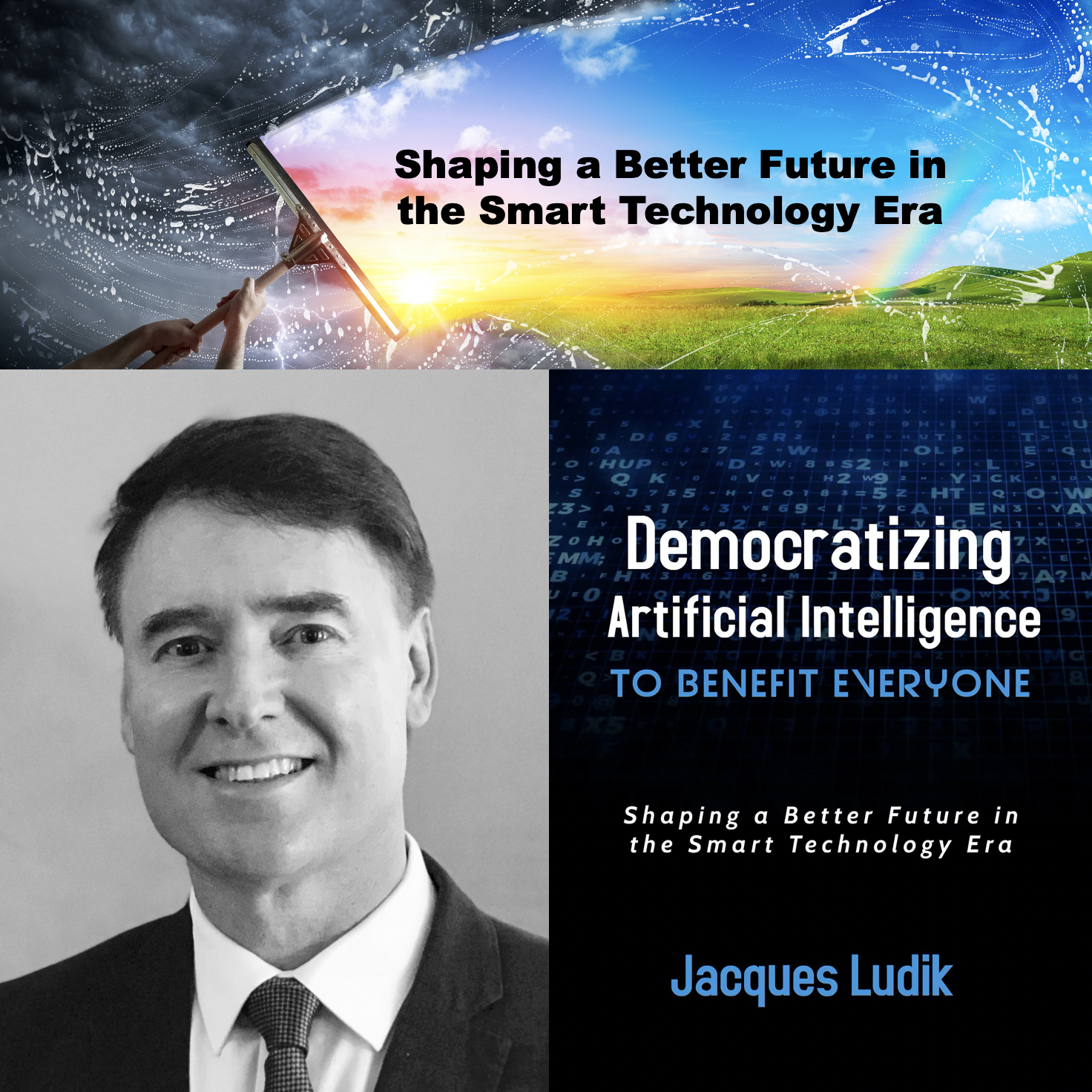 Conversations, presentations, and readings about democratizing smart technology such as Artificial Intelligence to benefit everyone and reshaping our civilization for beneficial outcomes and a better future in the Smart Technology Era. It takes us on a holistic sense-making journey and lays a foundation to synthesize a more balanced view and better understanding of smart technology, its applications, its benefits, its risks, its limitations, its progress, and its likely future paths. Our current civilization is on a problematic trajectory where we struggle with sense-making, meaning-making, wealth gaps, job loss, catastrophic risks, discrimination, data abuse, bias, human agency, dependence lock-in, institutional decay, disorder, and destabilization of society. We need visionary leadership, collective sense-making, wisdom, and practical actions to ensure that humanity and our civilization is moving in the right direction as we work towards unlocking the tremendous potential of smart tech.
Episodes
Thursday Aug 03, 2023
Thursday Aug 03, 2023
AI & Web3: A Perfect Match? - Dr Jacques Ludik
1. Introduction
2. Thoughts on ChatGPT
3. Thoughts on Call for Pause on AI
4. Adapt with AI Advancement
5. Closing Thoughts
Full Webinar: https://youtu.be/bxvC9qgSCAg
Only Webinars https://youtu.be/mgkxuiOtPx8
The convergence of #AI and #blockchain technology is opening up new possibilities. It is predicted that AI will play a fundamental role in the evolution of AI-based #Web3 technologies . Listen to the full webinar where the panelists discuss the possibilities of AI and Web3 converging to create a better life for all of us.
👇 Panelists
Dr. Jacques Ludik jacquesludik.com https://lnkd.in/dSf9RpEm
Dr. Dr. Christina Yan Zhang Joti Balani Lena Grundhoefer z₃ Francesca Tabor
Host Sharad Agarwal Webinar Recording Link https://lnkd.in/ecP3tw-2
The Power of Generative AI: Exploring its Impact, Applications, Limitations, and Future
https://lnkd.in/eaEFUcXg
AI and Web3: The Next Generation of the Internet for a Decentralized World
https://www.linkedin.com/pulse/ai-web3-next-generation-internet-decentralized-world-jacques-ludik/
Democratizing Artificial Intelligence to Benefit Everyone: Shaping a Better Future in the Smart Technology Era
www.jacquesludik.com
See https://jacquesludik.com/books-2/ for details about the book.
The Kindle and Paperback versions of the book Democratizing Artificial Intelligence to Benefit Everyone has recently been updated and can currently be obtained via the following Amazon marketplaces: United States, United Kingdom, Canada, Germany, France, Spain, Italy, The Netherlands, Japan, Brazil, Mexico, Australia, and India. https://www.amazon.com/Democratizing-Artificial-Intelligence-Benefit-Everyone-ebook/dp/B08ZYW9487/
Audiobook available on many audiobook marketplaces world-wide such as: Audible, Apple Books, Audiobooks.com, Google Play, SCRIBD, Libro.fm, Downpour, Nook, Kobo, Chirp Books, AudiobooksNZ, MLOL https://www.audible.com/pd/Democratizing-Artificial-Intelligence-to-Benefit-Everyone-Audiobook/B09LNL4JHC
Video with Audio of full Podcast: https://youtu.be/5wQH6CLHzW0 
YouTube channel: https://www.youtube.com/c/JacquesLudik
Podcasts: https://jacquesludik.com/podcasts/
Spotify: https://open.spotify.com/show/1mozteqpuyVqu2RdanLEHU
Websites: https://jacquesludik.com,  https://sapiens.network